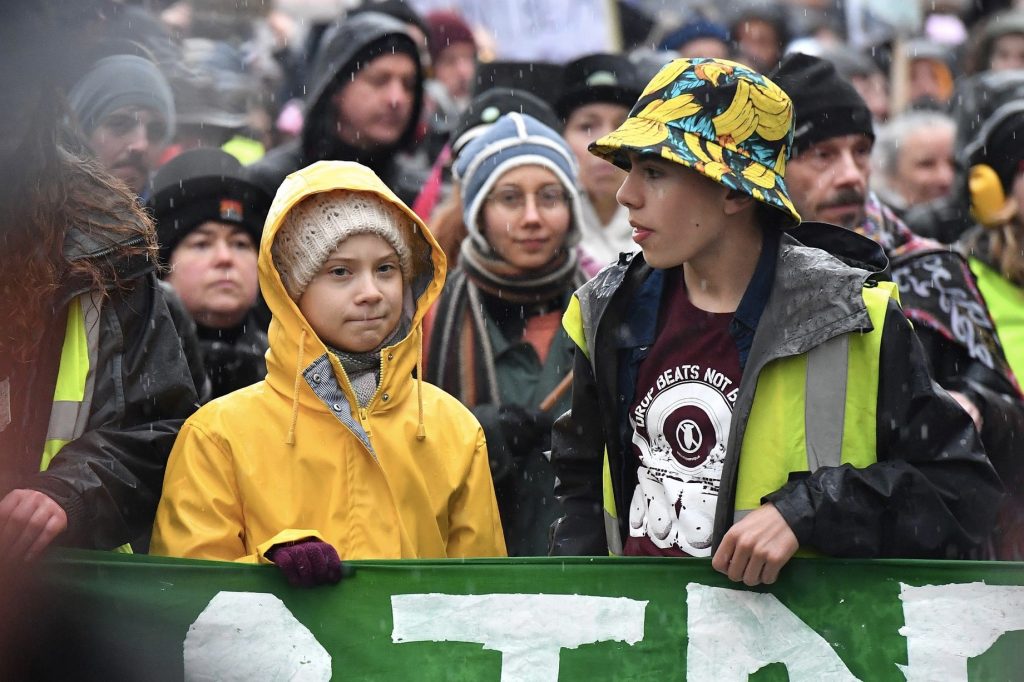 Greta Thunberg made waves in Bristol on the 28th Feb 2020 by appearing at the Bristol Youth Strike 4 Climate Rally, which started out at College Green. After making a speech, she led a march around the city, as accompanied by thousands of supporters and climate activists. 
It was the rally's 10th anniversary, and this was the largest gathering so far. The original plan was for Greta to go to London, but because the venue for London was too small, the organisers recommended that she head to Bristol instead. In fact, Greta said that she'd chosen to come to Bristol because "the climate movement in Bristol is very strong."
Even though these changes were announced only a week prior, the event still attracted a major following. Avon & Somerset police estimated around 15,000, but the actual numbers could have reached up to as many as 30,000.
Greta in Bristol
Greta had arrived in Bristol by taking the train from London Paddington to Bristol Temple Meads. Police then drove her to College Green in a Nissan Leaf electric car (one of the most environmentally friendly vehicles available in the UK today).
When Greta arrived at College Green, there was already a huge crowd waiting for her despite the threat of heavy rain. Many of these were schoolchildren and teenagers who were holding up placards that asked for environmental justice. Still, even though the event was geared towards the youth, people of all ages showed up, from a pro-environment group of grandparents to mothers and even doctors, nurses, and employees of green companies.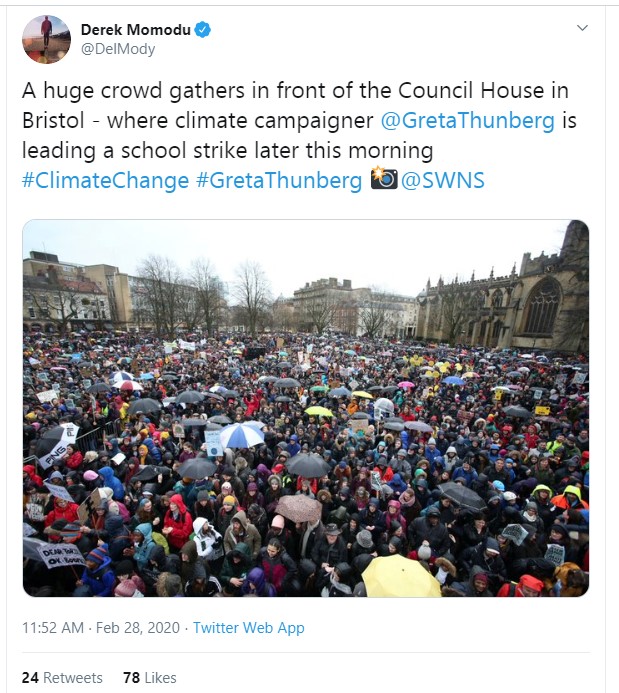 Because of the expected popularity of the event, police and rally organisers had taken up precautions beforehand. The organisers had set up 60 meters of festival barriers, and a safe zone was reserved for young children. On the other hand, the police minimised risk of harm by closing down roads around the city centre between 9 AM and 5 PM.
A Speech for Activism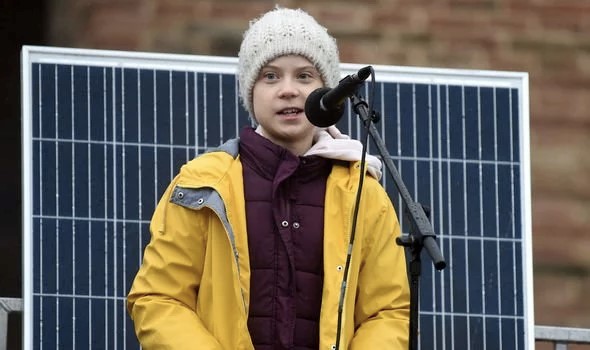 Amidst cheers calling out her name, Greta made her appearance onstage at around 11:45. Dressed in a yellow mac and hat, she gave a short speech before the official rally.
She started out by saying: "This is an emergency. People are already suffering and dying from the consequences of the climate and environmental emergency but it will get worse."
She went on to point out that nothing is being done to stop the crisis despite the promises of government officials and world leaders: "Well I will not stand aside and watch, I will not be silenced while the world is on fire – will you? World leaders are behaving like children, so it falls on us to be the adults in the room… Once again they sweep their mess under the rug for us young people, for their children, to clean up for them."
As an example of how influential activism can be, she cited the recent decision to no longer push through with the expansion of the Bristol Airport after strong protests. Locals were concerned about how despite projected business profits, it would have harmful effects on climate change and even public health, so the airport expansion was scrapped.
Greta then ended the speech on a powerful note, emphasising the importance of every single person taking action: "But if enough people are pushing for change, then change will come. And we are those people—and every single person counts… Activism works. So I'm telling you to act. If you look throughout history, all the great changes have come from the people."
She was joined by Mya-Rose Craig, another 17-year-old who's an ornithologist and the youngest person to hold an honorary doctorate from the University of Bristol. In a similar note as Greta, Craig had said, "We have to engage with all of our communities in order to properly fight climate change." She also described how "it's so cool to see so many thousands of young people here ready to fight for our future."
After the speeches, Greta was at the forefront of the rally, which proceeded from College Green to Cabot Circus before circling back to its starting point. With the march accompanied by a Samba band, Greta held up a banner the whole time with the Swedish words "Skolstrejk for Klimatet" (or "School Strike for Climate").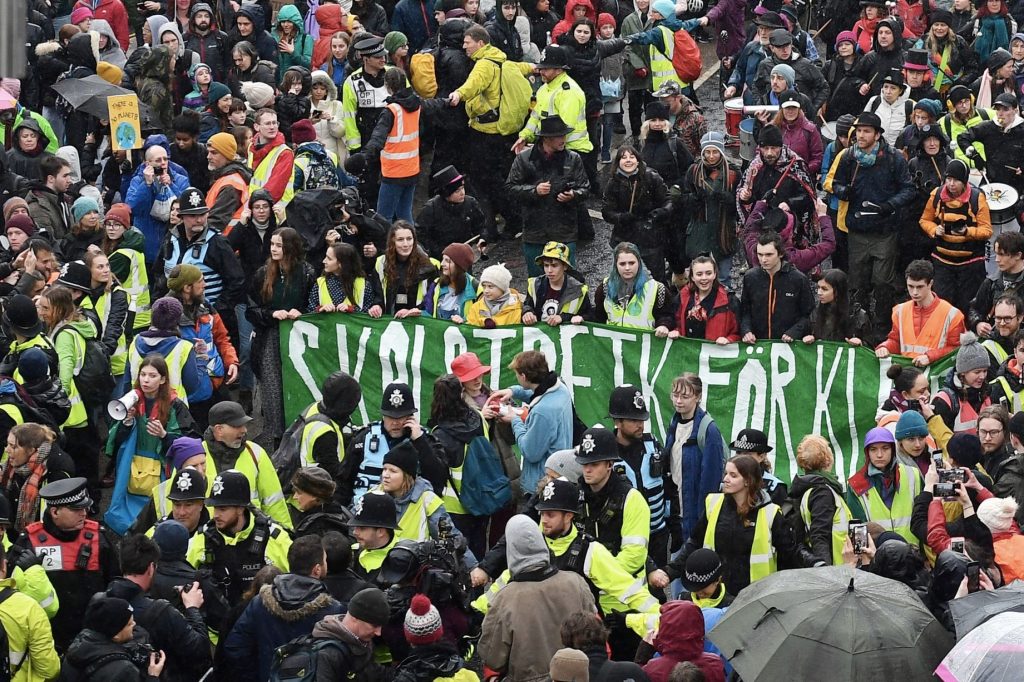 Inspiration for Bristol Youth and More
Many of the attendees of the youth rally were inspired. Two schoolchildren who have both organised their own school strikes said that Greta is a role model for them and they were glad to see so many other people around. Some even invited their parents, adding that they want to help make a change and it's important that people understand what's happening to the Earth. Echoing these sentiments, an 84-year-old former lecturer at Bristol University mentioned that having Greta on Bristol is a great privilege.
Some schools have showed their support for the rally, allowing kids to skip class at 10 AM so they could join Greta. Businesses followed suit, either letting their employees go freely or even encouraging them to be part of the strike.
The Bishop of Bristol, the Rt Revd Vivienne Faull, also met with Greta before the rally, commenting that it was truly inspiring to listen to her talk about the urgent need for change. Even Bristol's mayor, Marvin Rees, welcomed Greta into the city: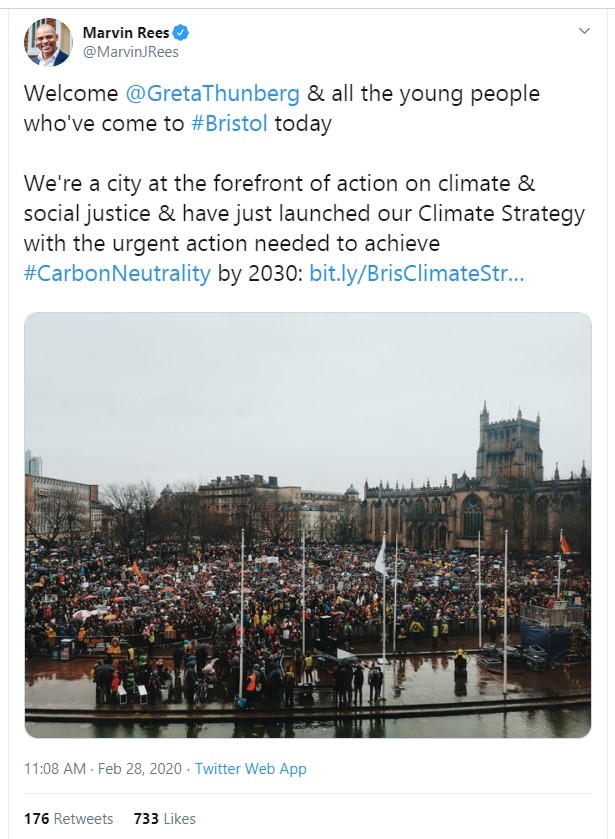 However, because of the bad weather during the day of the rally, the grounds at College Green turned out to be muddy, so they're due for some repairs before spring. A fundraiser was set up, already achieving more than £15,000.
All in all, the organisers said that people did the best they could and they were honored to have Greta in Bristol for their 10th strike. Even Avon and Somerset Police Superintendent Andy Bennett called the event a great success for both the organisers and Bristol as a whole.
As an internationally known activist who has already been nominated twice for the Nobel Peace Prize, Greta is seen as a role model and inspiring figure by Bristol youth and students who are passionate about fighting climate change.
We salute her and all she's trying to do.