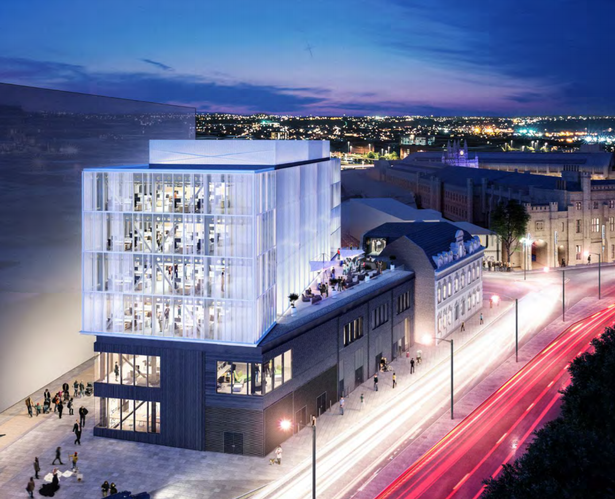 There's plenty going on in Bristol's development and building landscape and cranes are being spotted all over the city as a result. The area is changing dramatically, with major associated works on surrounding roads as well as local infrastructure. There are nearly 3,000 new homes set to be delivered in the current fiscal year.
Here's the latest roundup of activity to note…
Temple Quay North
The small patch of land between Glass Wharf and Gardiner Haskins will be transformed into two 11-storey towers. The first, called ND7, is already well underway and when it is finished, it will house 255 flats as well as a cafe, fitness centre and commercial space to let.
The adjacent plot, ND6, is proving to be more complex, however. Bristol City Council originally approved planning on the grounds that 23 of the apartments within were classed as 'affordable'. However, the developer said that it was only financially viable to offer 4 affordable flats within the build. A government inspector also sided in April with Legal and General and agreed that just four affordable units could be offered within the 11-storey tower block.
The two towers are expected to dominate the city landscape and controversy over the affordability question looks set to continue.
Temple Quarter Enterprise Zone
This ongoing work will be a familiar sight to locals, as the Temple Quarter development has been in progress for years. The government announced in 2011 that it would be one of the UK's first Enterprise Zones, one of 11 planned across the country to create thousands of new jobs and to boost the local economy. The Temple Quarter development will be 70-hectares when completed and will comprise mixed-use development, including 11,000 new homes and a new transport interchange, with upgraded station facilities.
Within the plan, the currently disused Temple Circus buildings will be transformed into a huge glass office block, replacing the site where the former Grosvenor Hotel is located. The roadworks to enable the scheme are in their final stage and drivers will soon experience a completely transformed route when they drive through the city.
Temple Island
Another controversial but hugely ambitious scheme, Temple Island is now not going to get an arena. Instead, it will continue to have mixed-use development, including housing, a conference centre, office accommodation, shops and a hotel. The asset managers behind the vision are Legal & General.
The work has already progressed, with £300 million of development having been signed off. The University of Bristol will also locate a new Enterprise Campus where the former sorting office once stood. This will be a home for digital tech and innovation, combining teaching and R&D facilities, to the benefit of students, academics and businesses alike.
Castle Park View
This will ultimately be the highest of the city's residential buildings and work is now progressing with Castle Park View, which will be 180,000 square feet in size and offer 375 new homes. A full 20% of these will be classed as affordable. Interestingly, they will all be commercially connected to the city's heat network in a first of its kind renewable energy project.
Wapping Wharf
Work is also underway at Wapping Wharf to create another 250 new homes. Prep works have already been completed next to Cargo and behind the M Shed. The new homes are expected to be ready for sale by the end of the year. The joint venture has been progressed by Umbserside and Muse with Wapping Wharf Living. The building will be carried out by Balfour Beatty. 93 flats will be managed by the Sovereign Housing Association. There will be new offices nearby too, with 90 shipping containers being converted inside the space of a former stone warehouse, providing flexible working space.
Redcliffe Quarter
This area will be experiencing exciting regeneration, with new homes, restaurants and bars being built in a part of Bristol which had become rather neglected, just behind Victoria Street. The plans for Redcliffe Quarter will include a visionary new food quarter, housing mixed bars, restaurants and a food market.
Brandon Yard
The Brandon Yard site is particularly ripe for regeneration with the shells of two listed gasworks, dating back over 40 years, having sat derelict for decades. Now, they will be stored and a new building will be added to create a series of 1-3 bedroom homes. These 58 new properties will be ready by next spring.
Broadwalk Shopping Centre
Pelican will be knocking down the old Broadwalk shopping centre in Knowle to build a large multi-purpose space with 420 homes, leisure, entertainment, retail and commercial space for the local community. 13% will be affordable which is less than the 30% originally sought, due to the costs involved in regenerating the site.
Ashton Gate Stadium
The project to build a 4,000 seater convention centre next to Ashton Gate Stadium with surrounding hotels, offices and houses has been progressed to the next stage of the planning application by Bristol Sport. The land is currently in use by a number of businesses including Wicks. The plans include hundreds of new build properties between Long Ashton Park and Ashton Gate on land which is currently green fields. The scheme is worth £100 million.
Other Projects in Progress
These include transport projects at Metro Bus to link South Bristol and the North Fringe to the city centre, the Temple Gate scheme and new cycleways being installed across the city centre. The greenlight has been given to 2,675 new homes on the old Filton Airfield in north Bristol.
Plans are afoot to regenerate Callowhill Court which is part of the Shopping Quarter.
There are also large enterprise projects on the go, including the City Centre Business Improvement District and Bristol Temple Quarter.
To improve the city's cultural offering further, investments have recently been underway or are planned for Brunel Museum, St George's and Colston Hall.