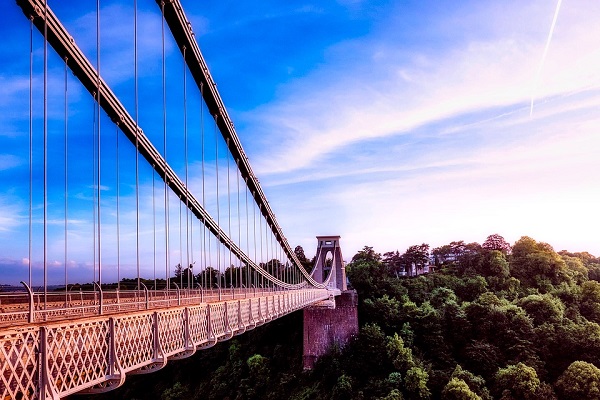 Bristol is a city of innovation, technology and science. It is one of the most important digital hubs in the UK, and it was named one of Europe's top 10 cities for technology in 2018. Is it, therefore, any surprise that a fast business broadband network is absolutely essential in the city?
In this article, we'll take a look at the broadband situation in Bristol, including average speeds, providers and why it is so important to the city's future.
The Superconnected City
Go back to 2012, and Bristol was recognised as a 'Superconnected City', which brought in £11.3 million in funding from the Department of Culture, Media and Sport. This money was spent on improving the broadband infrastructure and helping more businesses get connected.
Since then, the city's broadband networks have gone from strength to strength. This is incredibly important, because poor connectivity hurts development – a disaster in a city with as many creative and tech startups as Bristol.
Slow or intermittent broadband speeds can lead to problems or poor performance across a number of basic online tasks like streaming videos, downloading large files, video conferencing, VoIP calling and network activity in general. There is a big shift to working in the cloud, and fast broadband is important for all companies, both those outsourcing their IT services and those doing it in-house.
So what is the situation like seven years after Bristol gained its Superconnected City status?
Hotspots and Notspots
According to Broadband Compared, superfast broadband is available in many areas of the city, with particularly fast speeds available in some areas including postcodes like BS4 and BS10.
Price comparison site Choose also provided a few figures for November 2018 using Ofcom's speed checker and found that:
the average download speed was 20mbps
the average upload speed was 2mbps
the fastest download speed was 395mbps
There is a lot of variation, but most areas now have superfast broadband, and some pockets in the city have ultrafast broadband – with speeds of up to 821mbps. However, this is limited to newer buildings.
But there are slower connections too, especially in rural locations and in older parts of the city, like the area around Bristol Temple Meads station. Some trading estates also suffer by not having good access, as well as areas of Whitchurch and Hengrove.
Key Broadband Providers
All the main broadband providers are available in Bristol, including BT Openreach and Virgin Media.
Virgin has a proprietary network that only it can use, while BT Openreach is an open network, so other ISPs can use it to provide services, such as Sky, TalkTalk and Plusnet.
In 2012/13, the BT Openreach fibre network was rolled out and many telecommunications cabinets were upgraded. While Virgin Media has a large presence, some areas still cannot access its network, especially in the city centre and business parks.
Hyperoptic is a newer provider that is building own fibre network in parts of the UK, including Bristol. It provides the fastest speeds in the UK, and it's good to have another player in the market.
Gigabit Voucher Scheme
The digital and creative sectors in Bristol are keen to get access to superfast fibre broadband, and some businesses are now taking advantage of the Gigabit Voucher Scheme.
With this scheme, vouchers worth up to £3,000 are provided to SMEs in Bristol to help them install gigabit broadband.
Digital technologies are becoming more advanced all the time, and fast broadband is particularly important for businesses in the creative and digital industries where they need to work on and share large files and capture video footage in the cloud.
Having faster broadband boosts productivity for these businesses, makes them more competitive and helps to keep Bristol at the forefront of the tech scene – which is why these vouchers are proving so essential.
The Full Fibre Rollout
The problem with fibre broadband is that, until recently, it has been delivered using hybrid fibre networks. This means fibre cables go to the street cabinet, but then copper cables go from the cabinet to the premises.
This means the performance is limited compared to full fibre. Full fibre connections provide a way to future-proof broadband by providing faster speeds. Laying fibre optic cables from the exchange to the property provides increased bandwidth as well as being more reliable and having lower maintenance costs.
In August 2018, Business West reported on a meeting between members of Business West Initiative and Kim Mears from Openreach, where she talked about the Fibre First programme.
Bristol was selected as one of nine UK cities for the programme, which involves speeding up the roll-out of Fibre-to-the-Premises (full fibre). In Bedminster, 26,000 homes now have full fibre, and every week, 2,000 more are getting access to it. Bristol now has over 250 km of cable, and the rollout is continuing across the city with 97 per cent of households and businesses now being able to connect to speeds of 30mbps or more.
Broadband Requirements for New Developments
One of the problems with broadband infrastructure is that it is expensive to retrofit. It should therefore be considered during the design and build stage of a development.
This is where the council's policy BCS15 comes into effect. This involves improving connectivity by ensuring new developments get access to superfast broadband (defined as broadband with speeds of 30mbps or more).
Policy BCS15 will be applied for developments of 10 homes or more, or where buildings are being converted into homes, and for developments with 1,000m2 of floor space. When applying for planning permission, developers will need to provide evidence of superfast broadband connectivity in the form of a connectivity assessment or similar.
The goal is for new developments and conversions to provide superfast broadband at various price points.
Bristol Fastest for 4G
Bristol is also doing well with mobile broadband. In March 2019, Opensignal found that Bristol was voted the fastest city in the UK for mobile broadband speeds out of the 15 biggest cities.
Using crowd-sourced data, it found that Bristol had an average download speed for mobile broadband of 28.2mbps – a big difference from the bottom city on the list, Sheffield, with 19.9mbps.
It analysed performance over a 90-day period starting in November 2018 and across different broadband operators. London came in the middle, with 24.9mbps, and the average across the UK was 22.5mbps.
Bristol Is in a Fantastic Position
In summary, Bristol has one of the best broadband networks in the UK. Its tech and creative businesses are important for the local economy, and they can take advantage of some of the fastest speeds available to improve productivity and ensure they stay competitive, while helping Bristol to stay at the forefront of innovation.
Bristol is a city that understands the importance of superfast broadband. As new technologies are developed, like 5G, it's fair to assume that Bristol businesses and residents will be able to take advantage of the latest technology and the fastest broadband speeds.